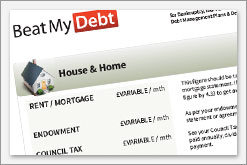 If you are applying for an IVA you will need to complete a monthly living expenditure statement as part of your Statement of Affairs. This is a list of all of your reasonable living expenses that you incur every month.
To get an accurate view of your reasonable living expenses and to make sure that you include all allowable expenses in your list you should use the BeatMyDebt.com living expenses guide:
How to use the IVA living expenses guide
The BeatMyDebt.com living expenses guide lists all of the different types of expenditures you should consider when completing your monthly expenses budget. It gives hints and tips about how to calculate each allowable expense item accurately and the budgets which you will have to stay within to ensure that they are acceptable to your creditors.
Remember, once you have put together your living expenses budget, you should speak to one of the BeatMyDebt.com debt experts who can help you to make sure that your budget is complete and reasonable.
Your IVA expenses budget must be reasonable
The figures used in the living expenses guide may seem restrictive. However they are known to be generally accepted by creditors. As such, you should try stay within the budget figure shown for each category. If you do not do this, then elements of your living expenditure budget might be rejected by your creditors meaning that your IVA payments will have to increase.
However as its name suggests, the  guide MUST be used as a guideline only. Every individual's situation is different and the actual figures acceptable to your creditors  in each category may be higher or lower than those indicated depending on your circumstances.
If you feel that you need to spend more than the recommended amounts, you should include these figures in your budget. However, you must be prepared to justify any additional expenditure and understand that you might be asked to reduce these before an IVA can be agreed with your creditors.
To make sure your living expenditure budget will be acceptable to your creditors, contact one of the debt experts at BeatMyDebt.com so that we can discuss your requirements in greater detail.
Arrange a call with an IVA Expert